Laurent Maire
Fine Dining Personal Chef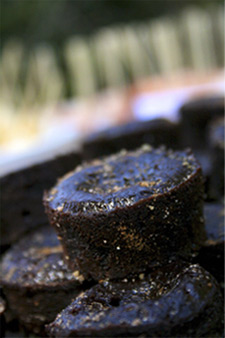 Light chocolate cake with spices
Blossoms, young vegetables and wild herbs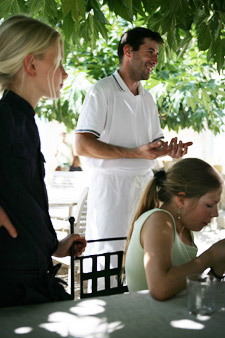 «Too rare are maybe the ones who, among us, consider that the fact of cutting the bread, of sharing the salt or of sharing the same dish of food, holds an importance that goes beyond the simple satisfaction of a need.»
Whether you wish to receive your family, to welcome your professional guests, to invite your friends for celebration or to plan a meal for your loved ones, an in-home private chef can allow you to dedicate yourself to your guests and appreciate a creative gastronomic experience.
Laurent has professional experience in prestigious international establishments:
- Le Capucin Gourmand, France - Two Michelin Star.
- Le Grand Hôtel des Bains, Switzerland - Four Star Luxury Hotel.
- La Plantation, Martinique Island (French Territories) - One Michelin Star.
- Hôtel du Commerce - Luxembourg.

Slow Food Foundation for Biodiversity
Laurent has a refined original style, which consists of healthy dishes made with seasonal and organic local produce.

You will discover the diversity of local produce, presented in various surprisingly original and colourful dishes.
Laurent is a member of the Slow Food movement in the South of France.
Using seasonal produce Laurent has elaborated a cuisine that is healthy and is issued of organic farming.
Laurent studied Naturopathy, Aromatherapy and herbal medicine. He believes that food is an essential element for the health. He is specialized in glutten-free and low calorie diets, as well as diets for people with specific allergies.
He selects his producers and farmers by the quality of their produce.
"Cooking for you in the comfort of your home permits me to assure precision in the preparation and the artistic value, while sharing my knowledge, technique and recipes".
It is also possible to plan cooking for children or adults, to arrange visits to traditionals farms or meet with local wine makers (wine tasting).
Laurent can also modify the menu according to your personnal taste and choices.